September 6th, 2016
So what's new? I have done some readings, had a really great time at Feen Con in Bad Godesberg. I was at the FEST of Fantasy. There, too, I read from my stories. The FEST is always quite wonderful. Unfortunately, this year it was a bit rainy.
A new book has just been published: an anthology of short stories, called "Funtastik" to which I contributed a story.
The aim of the anthology was to present the funny side of fantasy. The stories are quite varied. After all, we all have a different sense of humor.
Another short story will appear soon. unfortunately I am not allowed to tell you any  more details. Soon, I promise.
My new novel "Seelenspalter" (=Splitter of Souls) will come out in Droemer Knaur early next year. It has a really nice cover, do take a look. It will be the first of hopefully many books of my new series called "Klingenwelt" (Blade World) And what is it about?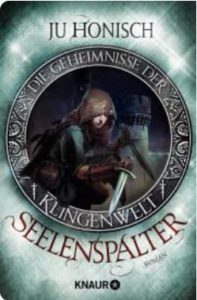 Seelenspalter can bei preordered here.
Maleni is harmless. Taryah is deadly. Together, however, they are but one single person, trained, moulded and soul sliced by the Assassin Order of the Xyi. Without ever being seen, this order guides the fortunes of the war torn Eight Realms of Predorenn. Taryah is a courtesan and hired blade without a conscience. Maleni is a nice, young woman who, while running away from her last deed, meets Umbert and Elgor, both of them travelling blacksmiths. Their knowledge is ancient and magical. They have their very own plans with Maleni who does not suspect this. Maleni must now fight against bloodthirsty pursuers, against the best killers of Eight Realms and against her own inner fighter. She cannot trust anyone, not even herself – and certainly not the mysterious fighter who shows up sometimes, only to disappear again into thin air.
Posted in general, writing |

No Comments »