Eerie creatures and other friendly neighbours welcome you to this site!

This is Ju Honisch's website. I write novels, short stories, poems and songs in both English and German.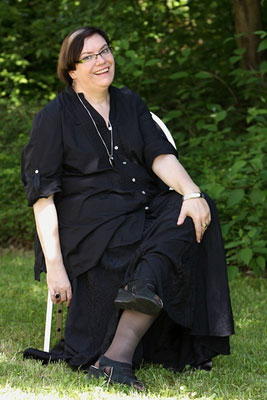 My first collection of German short stories "Bisse" (=Bites) is available as e-book from Hockebooks.
My first novel "Das Obsidianherz" (= Obsidian Hearts) was originally published by Feder und Schwert in 2008 and received the German SF and Fantasy Award "Deutscher Phantastik Preis" 2009.
Together with "Das Obsidianherz", the next novels
"Salzträume" (Dreams of Salt) vol. 1 and 2, 2009
"Jenseits des Karussells" (Beyond the Merry-Go-Round), 2010
"Schwingen aus Stein" (Wings of Stone), Dec. 2013
all share the same gothic novel / steampunk setting: Bavaria / Austria 1865- 1867.
"Schwingen aus Stein" was awarded the "Seraph", a literature award of the Phantastische Akademie e.V. for "Best Novel" in March 2014.
The entire series has since moved to  Droemer Knaur. An english version of the first novel is curerntly being edited and will soon be release as an e-book.
Also published at Droemer Knaur: the first two volumes of  the series "Geheimnisse der Klingenwelt" (= Secrets of the Blade World): "Seelenspalter" (Splitter of Souls) und "Blutfelsen" (Crags of Blood)
"Die Quellen der Malicorn" (The Wells of Malicorn), published by Heyne (Random House) in 2013, is not part of the previous series.
Single short stories can be found in my two short story collections
"Bisse"
and "Machtschattenspiele"
or in anthologies published by
DIANA Verlag (Random House),
Geisterspiegel,
Verlag Saphir im Stahl,
Ulrich Burger Verlag,
Verlag Torsten Low,
O'Connell Press,
Feder & Schwert,
Leserattenverlag
Drachenzirkel München
Drachenmondverlag
Edition Roter Drache
My musings on life, the universe and everything can be found in my blog.
I like excitement and adventure. I love black humour. And what I like is what you get.