My Contribution to an RPG Rulebook
Well – not really. In fact I haven't made any active contribution to an RPG role-playing game other than allowing my likeness to be included in the volume as a drawing. The drawing is by Sylvia and I think it turned out really well.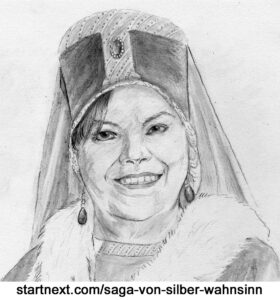 I hereby inform you about this crowd funding project in the very own words of one of the editors:
"It's time:
The crowdfunding project of the 100 Questen Gesellschaft e.V. for the SAGA OF SILVER & WAHNSINN (has)start(ed) on Saturday at 6:00 p.m. on Startnext.
The campaign in 13 single adventures was originally written 30 years ago by Steffen Schütte for the "Stormbringer" role-playing game. Now finally it will be released after several years of preparation.
All game values of the campaign were transferred to MYTHRAS and the background world was designed in such a way that all terms are recognizable for those familiar with the subject and do not pose an obstacle for readers without previous experience.
The 13 adventures will be published in two hardcover volumes (six adventures in ZORIACH'S CHILDREN – SAGA OF SILVER & MADNESS PART I and seven adventures in ACROSS THE EDGE OF THE WORLD – SAGA OF SILVER & MADNESS PART TWO), each volume can work on its own, or both volumes can be played together in full.
In addition to the adventures, each volume will also contain a prologue, an epilogue, a brief description of the world of the NEW REALMS, a rough map, rules for character creation and the peculiarities of this world, and 5 pre-made characters to skip character creation and start playing immediately.
The 100 Quest Society has spared no effort and invested several thousand euros in maps, illustrations, NPC portraits and cover art to bring the campaign to life. With the help of crowdfunding, our goal is to come to plus-minus zero with the total costs for the society; any profit generated will be used to realize follow-up projects.
Besides small maps and building plans, handouts and monster illustrations, the important personalities (NPCs) of the campaign have been "cast" with personalities of the (role-playing) scene, so that readers/players who regularly visit cons or the festivals will see familiar faces again as NPCs. For readers/players who do not know these personalities, this "cast list" is not a disadvantage… then they are "only" NPCs.
Crowdfunding
www.startnext.com/saga-von-silber-wahnsinn